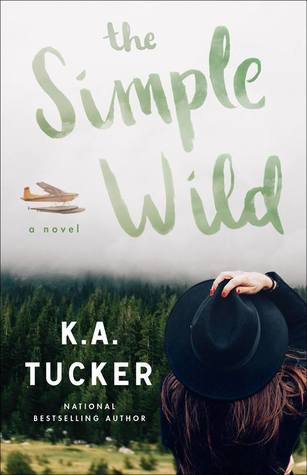 If you've been anywhere near any type of social media this year, you've seen people rave about The Great Alone by Kristin Hannah. I read it earlier this year and it blew me away, totally lived up to the hype, etc. etc. etc. So when I picked up The Simple Wild, I have to be perfectly honest and admit that I was expecting something in the realm of The Great Alone and the book disappointed me in that regard.
BUT WAIT. This does not mean that The Simple Wild is a disappointment in any way, shape, or form. The Simple Wild is NOT The Great Alone and shouldn't be compared to it at all. Yes, the books both take place in Alaska and are stories of families but the similarities end there. Alaska is a main character in The Great Alone, but in The Simple Wild, it fades into the background as a stunning backdrop to a heartwarming and heart wrenching story.
The Simple Wild is a beautiful father-daughter story that reduced me to tears on a couple of occasions and the story of a girl trying to find her self and her identity. The story is sweet and profound and absolute perfection from beginning to end. The only other K.A. Tucker book that I've read was a thriller last year and I'm absolutely blown away by how well she tackles both genres. If you're looking for me in the next few months, I'll be devouring her backlist.
Note: An egalley was provided by the publisher in exchange for an honest review.