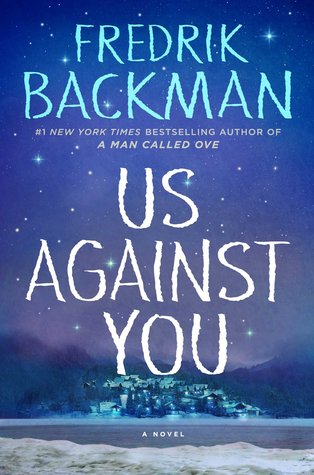 I read, and really enjoyed, A Man Called Ove last summer and I've had my eye on another of Backman's novels since then. I requested Us Against You on a whim from Netgalley and didn't expect to be approved. When I received the approval email, I quickly realized that I needed to read Beartown before I dove into this new one.
Beartown is described as Friday Night Lights but hockey and that description fits the book PERFECTLY. I love Friday Night Lights (although I've only watched two seasons thus far) but as a Canadian I do have a tough time understanding how a town can be that passionate about football. BUT, with hockey I GET IT. I've cheered on a hockey team through Stanley Cup playoffs, cried tears of joy and tears of sorrow at medal games in the Olympics and I GET IT.
I can't talk about Us Against You without spoiling the events of Beartown since it's the second in a series, so let's just talk about both books in general. Frederik Backman chooses each word, each phrase with such purpose and intention. Some of his phrases absolutely took my breath away. His characterization is the strongest part of these novels. Although the plot is excellent as well, there are moments where the storyline isn't progressing because we have to take the time to really get into the characters' heads and unpack how they're feeling. His character development is AMAZING and unlike any other author that I've read. If you've read Ove, just think about how much you came to love his character by the end of the story -- you'll feel the same way about each and every character in Beartown.
If you're Canadian and you love hockey, read this book. If you've ever cheered for any type of sports team, read this book. If you love a story that'll tug at your heart strings, read this book. If you can place your hand on your chest and feel your heart beating, READ THIS BOOK.
Note: An egalley was provided by the publisher in exchange for an honest review.