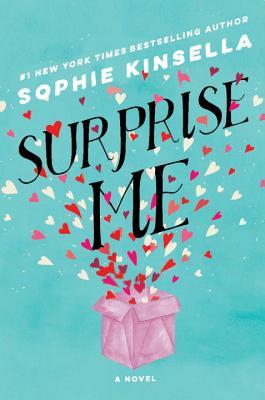 Sophie Kinsella is a hit or miss kind of writer for me, but Surprise Me was definitely in the hit category. Although some of her books have been duds (like Twenties Girl and the majority of the Shopaholic series), I found that Surprise Me was full of cutesy moments and heartfelt character development.
When Sylvia and her husband Dan find out that they're expected to live to at least a hundred years of age, both of them are shocked to find out that this means that life will also include 68 more years of wedded bliss. When 68 years starts to feel a bit daunting, they decide to mix things up by trying to surprise one another. This is where the silliness of the book comes in, and I thought that I was in store for a traditional Sophie Kinsella book full of miscommunications and relationship ups and downs with a bunch of giggly cringe-worthy moments. About halfway through the book, the story took a different turn than I was expecting, and I was on the edge of my seat as the rest of the story unfolded.
Surprise Me had way more heart and soul than Sophie's previous books, and I felt like this was one of her more mature books to date. If this is the direction that her writing will be taking for future books, I'm definitely intrigued to see what she comes up with next!
Note: An egalley was provided by the publisher in exchange for an honest review.