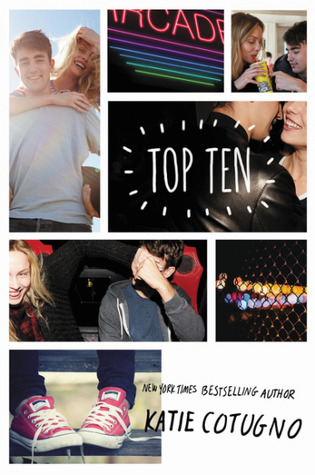 I love, love, LOVED How to Love when I first read it and knew that Katie Cotugno was a new favourite author. 99 Days was really good too, but I was disappointed by Fireworks. When I saw that Katie was publishing a second book this year, I was a little nervous because her last book was disappointing and I worried that maybe she'd rushed through writing in order to get two books out this year.
YOU GUYS, THIS BOOK WAS AWESOME. ALL KINDS OF AWESOME. Maybe Fireworks was disappointing because she rushed through that one to spend more time on this book, who knows, but this book is everything that I loved about How to Love, and more. What I loved the most about How to Love is that Katie creates these absolutely REAL characters who are messy and imperfect and REAL and genuine. I love that her characters are raw and sometimes you love them and sometimes you want to shake them and sometimes you want to reach into the book and hug them. Top Ten features another two characters like that and their story is just so imperfectly wonderful. I scarcely have the words to talk about this book because I read the entire thing in two days. I'm so full of feelings for this book, and have so much love for the way that Katie writes her characters' stories. She's definitely back at the top of my favourites list and I hope that she writes more books like this one in the future.
Note: An egalley was provided by the publisher in exchange for an honest review.