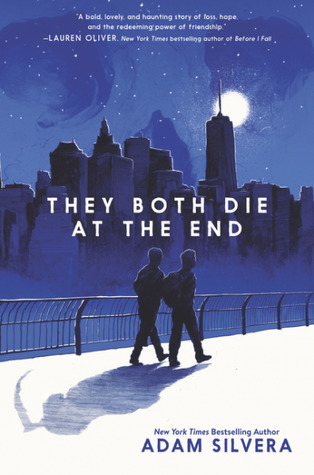 Anyone who is part of the blogging community, the Bookstagram community, the BookTube community or even just Goodreads has heard of Adam Silvera. He's a very well-loved author in the online bookish community and his books have received very high praise from so many readers. Although I haven't read either of his previous books, I thought I'd give his writing a chance with They Both Die at the End.
I went into this book with very high expectations, and I think that is why I felt the way that I did at the end. I liked it, don't get me wrong, but I didn't love it as much as I had hoped to. For me, there was a disconnect with how I felt about the characters. I love a good sad book, especially one that leaves me in a puddle of tears at the end. Based on the title alone, I fully expected a book that was going to tear my heart to shreds. Instead, I enjoyed a book with good characters, an interesting premise and a book that was more about living than dying. The relationship that develops between the main characters is sincere and genuine, but I felt like my heart stayed on the outskirts of the story, rather than being drawn into the emotions of the story.
They Both Die at the End is a solid story with good character development, but won't be topping my list of favourite reads this year.
Note: An egalley was provided by the publisher in exchange for an honest review.