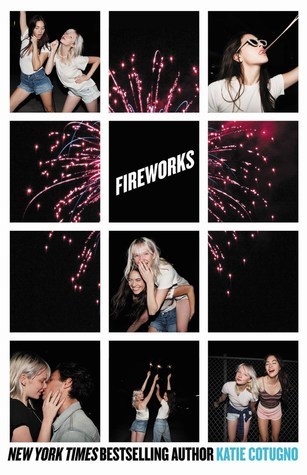 I
I loved Katie Cotugno's debut novel, How to Love, and really enjoyed her second novel, 99 Days. While I enjoyed Fireworks, there were a few things that fell flat for me.
The story follows Dana and Olivia, two best friends. Olivia has her sights set on being a singing star, while Dana is waiting tables in their hometown. When Olivia heads to an audition, Dana decides to tag along and ends up getting cast in a girl group alongside her best friend.
First, the things that I liked. The book is set in the 1990s, so there were a lot of elements of my own teen years that I could identify with. Dana's character development was also incredibly strong, as she struggled with her alcoholic mother and her feeling of entrapment in her hometown.
Unfortunately, the friendship between Dana and Olivia fell flat for me, and I found Olivia to be quite annoying and immature. The whole idea of one friend being famous and another being along for the ride was very reminiscent of Emery Lord's Open Road Summer, but ORS handled the friendship better than this book did. The book also addressed eating disorders, but it felt like the issue was overshadowed and not properly handled. It also seemed quite unrealistic that Dana would be given the opportunity to be part of a singing quartet with no formal training, other than dancing and singing in her friend's living room.
I did enjoy Katie's writing, as I did with the previous books, and am already looking forward to picking up her next book. I still liked this one, even though it didn't wow me like her previous books.
Note: A review copy was provided by the publisher in exchange for an honest review. This did not affect my opinion of this book in any way.