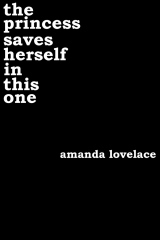 I have a degree in English, and I've read a lot of poetry for school. But it's been a long, long time since I've picked up any poetry and, in all honesty, I haven't read any since I graduated from university. I purchased a copy of Milk & Honey last year, and have been itching to read it, but the title of this one caught my eye on Netgalley, so I thought I'd give it a shot.
I've seen some criticism for this book that it's not "real poetry." Honestly, is there such a thing? I used to write poetry as a teenager and, looking back, I could say that it's all rubbish, but the truth is that it was what I was feeling at the time and it's full of emotion.
In my opinion, there is no wrong way to write poetry. Amanda's collection of grows as she does, into the princess who saves herself. It's raw, it's honest and it's pretty freakin' good. There are some highlight-able, sticky note-able moments in this book, and it's one that I definitely plan to pick up for myself.
Note: A review copy was provided by the publisher in exchange for an honest review. This did not affect my opinion of this book in any way.