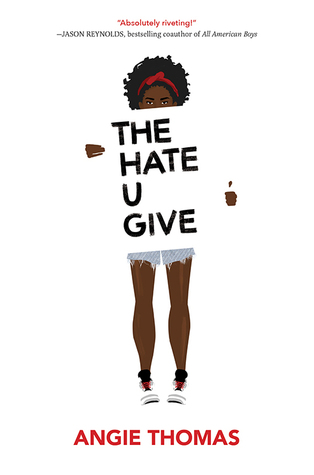 This book first appeared on my radar after Jaime @ The Perpetual Page-Turner tweeted that she'd finished reading it and wanted to know if anyone else had because she was dying to talk about it. I love books that make me instantly want to discuss them, so I searched it out on Edelweiss. Plus, any book that Jaime enjoys is almost a definite win for me as well, so I went into this one with the highest of expectations. The bookish hype is fully deserved for this book.
I was sucked in from page one and read this book in TWO DAYS. TWO DAYS. I have a full time job, an almost four year old and a big house that takes forever to clean. Plus I'm kind of hooked on the new season of The Bachelor. That doesn't leave a lot of time to read these days, but I shoved all of my other obligations aside one weekend and absolutely devoured this book. Bathrooms can be cleaned later, right?
The characters were so strong in this book. Starr's family was one of my favourite parts of this story. Everyone was so real and genuine that I felt like I was sitting around their living room, living the story alongside these characters. And the story, what a story. It is especially fitting that I'm writing this review on the day that Trump is officially sworn in as the President, while the entire world holds its collective breath and waits to see what will happen next. This story addresses racism and self-identity and fitting into a pre-determined place in society and socio-economic differences and what it means to assume things about others. It's a total issue book, but it tackles all these issues in such a powerful way that I never felt that I was being preached to, the way other issue books have felt to me in the past.
In short, this is a book that captured my heart and wouldn't let go, long after I'd finished the last page. I will definitely be buying a physical copy for my shelves, and it's a book that I will reread for sure. If you're looking for a book that will change you for the better, add this one to your TBR. If Trump does what he plans to do, we're going to need to continue to love one another and this book will teach the world how to love, one page at a time.
Note: A review copy was provided by the publisher in exchange for an honest review. This did not affect my opinion of this book in any way.