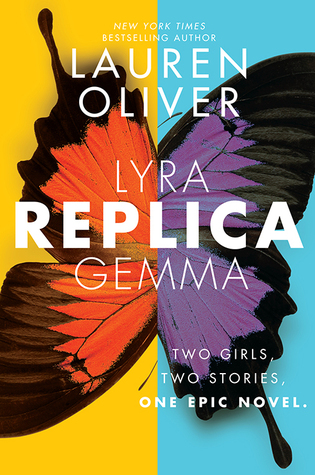 After I read Before I Fall and Delirium, I knew that Lauren Oliver had secured a spot at the top of my favourites list. Her writing is so beautiful and these books are some of my all-time favourites. Although I've read most, but not all, of her later releases, I haven't found a book that wowed me as much as her first two releases. Her later books have been good, and full of her beautiful writing, but I didn't feel that heartfelt connection to them the same way that I did with her first two books.
I had high expectations for Replica, and it didn't disappoint. Although still not quite at the same level as my favourites of hers, I definitely enjoyed Replica more than some of her later books. As I had an e-galley, I could only read the book from cover to cover, rather than flipping back and forth between points of view. I am definitely planning to buy a physical copy of the book so that I can reread it at some point. I LOVED Lyra's half of the book, and found her to be such a riveting character. The way she saw the world was captivating and I tore through the first half of the book. Gemma's character was less likeable, and I found certain elements of the book to be a little repetitive. I think I was hoping for more WOW moments in the second half, but instead it dragged a little. The second half of the book was still a solid read, but just not quite as good as the first half.
If you're contemplating purchasing this book, I would highly suggest a physical copy over a digital copy, as I think this book would be better to read in alternating points of view, rather than cover to cover. If you've been disappointed with some of Lauren's later titles, give her another chance with this book. It's really, really good.
Note: I received an e-galley of this book from the publisher in exchange for an honest review. This fact did not influence my opinion of the book in any way.