I saw this tag making the rounds on BookTube, and have really enjoyed watching some of the videos. It was originally created by Lindsey Rey (see the original video here), and I just had to join in! I've only tried a vlog once, and it was an epic fail because the audio and video didn't sync up for some weird reason, so I'm joining in via handwritten answers =P
1) What book have you been unable to finish?
I have two shelves on Goodreads of books that I've either set aside with the goal of picking up again, or books that I actually DNFed. But for this question, I'll go with a super intimidating unfinished book, Shantaram. My former boss recommended it, and since I didn't go back to my old job after mat leave, I didn't have the motivation to finish reading it. I'm sure that I'll love the book, but it's over 800 pages, so I just haven't had the time.
What book have you yet to read because...
2) ...you just haven't had the time?
Mistborn by Brandon Sanderson. My TBTB Secret Santa sent me a copy this year, and I know that I'm going to need to devote some serious thinking time to this book, since it's a higher fantasy than what I'm used to reading. Since I'm still new-ish to fantasy, I can't fly through them like I can with other novels. I know that I'm going to need to have a significant chunk of free time on my hands before I dive into this series.
3) ...it's a sequel?
After spending two months working my way through A Feast for Crows, I know that I will need to read Dance of Dragons (?) at some point. It was so tough to get through book 4 that I'm just really not in the mood to pick up the next one, which is so huge that it's divided into two books!
4) ...it's brand new?
A Court of Mist and Fury! It's so beautiful, but such a large book! Plus, I don't remember what happened in the first book, so I'm going to re-read it.
5) ...you read a book by the same author and didn't enjoy it?
Finnikin of the Rock by Melina Marchetta. I tried to read Jellicoe Road a couple of years ago, but couldn't get into it. So many people love that book, and Melina Marchetta in general, that I'm also afraid that I'll be the one person on the planet who doesn't enjoy this series ... so I'm scared to pick it up!
6) ...you're just not in the mood for it?
The Name of the Wind by Patrick Rothfuss. Like Mistborn, I know that I'm going to need a significant chunk of time to read and digest this book, which I haven't had so I haven't been in the mood for a time-consuming read. Between work and school and family time, my reading is usually about 30 minutes before bed, which doesn't give me the time I need to invest in a heavy fantasy novel. So, although I really want to read this one, I just haven't been in the mood just yet.
7) ...it's humongous?
All of the books on this list! They're all chunky reads. But I think I'll have to go with Lonesome Dove by Larry McMurtry, which my husband has been pestering me to read since we first met. It's a WESTERN and it's crazy long. He says that it's amazing, but still ... it's a WESTERN. I'm not sure how I feel about that.
8) ...because it was a cover buy that turned out to have poor reviews?
Hands down, Halo by Alexandra Adornetto. I mean, ,just look at this beautiful cover: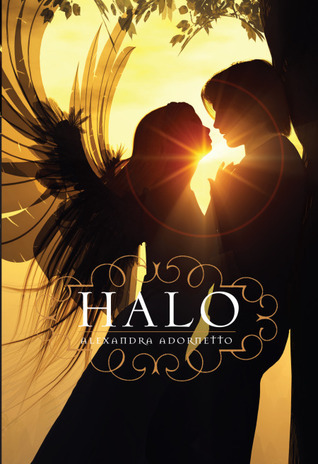 The entire series is gorgeous, but the reviews are not so good. It's sat unread ever since I bought it in hardcover when it was first released -- Goodreads says in 2010?!? I hope that my low expectations will pay off, since I'd love the own the whole series ... they're so beautiful!
9) What is the most intimidating book in your TBR pile?
Hands down, Ayn Rand's Atlas Shrugged. One of my best friends recommended this book to me years ago, and I picked up a copy, but the sheer size and the fact that I know it's dense and profound make it the most intimidating book on my TBR pile.
10) Who do you tag?
I've found out about so many great tags from Quinn @ Quinn's Book Nook, so I tag her, as well as Lauren @ Lose Time Reading, because she needs to start blogging again and this was a fun tag to do!