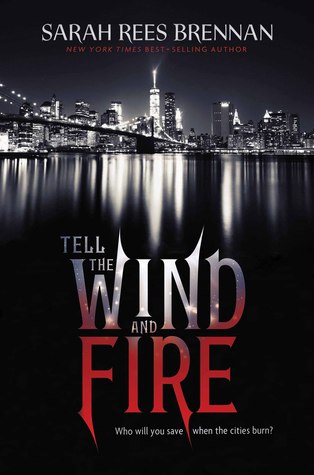 It was the best of times until it was the worst of times.
This is how Tell the Wind and Fire opens, and I was hooked from page one.
In some ways, this story is everything that fantasy lovers will enjoy. It has magic, mystery and intrigue, taking place in a fantastical New York City, where the work is divided into Light and Dark cities. The Light magicians control the work, keeping the Dark "buried" in their own city and unable to partake in the Light world. But there is civil unrest in this world, the world where Lucie escaped the Dark city and now lives in the Light city. It's a story of finding oneself, of first loves and of contrast. The Dark and the Light cannot exist without one another; both are dependent on one another for strength, even as they seek to destroy each other.
Although I haven't read Charles Dickens' Tale of Two Cities, I can see the parallel with the French Revolution. The story actually reminded me a lot of Marie Lu's Legend, which was loosely based on Les Misérables, set at the same time. I'm not much of a classics reader, but I'm definitely intrigued by the fact that this story is based on Dickens, and I'm tempted to pick it up!
If you like urban fantasy and a great story with a lot of heart, you'll enjoy
T
ell the Wind and Fire. I haven't yet read Sarah's other series, the Lynburn Legacy, or her collaboration with Cassandra Clare on the Bane Chronicles, but I am SO excited to read more of her writing!
Note: An e-galley was provided by the publisher in exchange for an honest review. This has not affected by thoughts on this book in any way.