Recently shelved as read: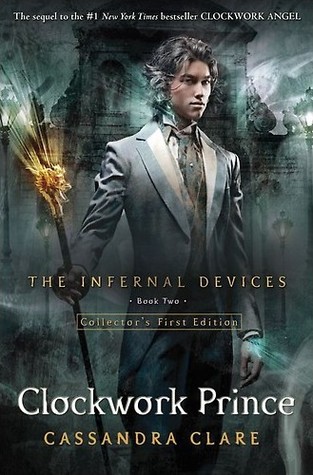 Holy smokes, I cannot put this series down! With a final exam and lots of pre-listing housework in the mix, I've still managed to chomp through another 500 pages of the Infernal Devices. I may be lacking a little in the sleep department, but gosh I'm enjoying this series!
On my nightstand:
I think that Tell the Wind and Fire is just going to simmer on the backburner until I'm finished with Clockwork Princess (which should be soon!) I'm absolutely loving this series, and I know that I will also love Tell the Wind and Fire once I can give it my undivided attention, rather than it sitting in the shadows.
Calling my name from the shelf:

I still feel like I'm in the mood for a quick thriller-esque read, but I also have The Love that Split the World left on my April TBR list. Not sure that I'm in the mood for this book at the moment though, which is my constant struggle with review books! Contemporary season is on the horizon, however, and I know that it won't be long until I'm binge-reading summery reads.
How about you? What are you reading this week! Let's chat in the comments below and thanks for stopping by!