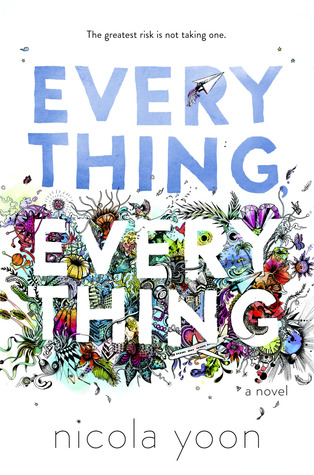 Everything, Everything is just as beautiful as its cover. It's a book that took the blogosphere by storm when it was first released, and I was delighted when Penguin Random House sent me a finished copy for review. I'm so happy that I loved it as much as everyone else did, and it looks gorgeous sitting on my shelves with my other contemporary beauties.
Our main character, Madeline, is allergic to everything. Seriously EVERYTHING. She lives with her mom and doesn't leave her germ-free house, with its special air filters and goes to school via Skype with her tutors. Since she can't physically escape her home, she escapes through the books that she reads, which arrive in special shrink-wrapped, disinfected parcels. Although her life is unlike anything I could imagine, she's relatively content -- until a boy moves in next door and she begins to long for all she cannot have.
It's hard to talk about this book without being spoilery, but I'll try. The characters grab onto your heart and won't let go, and I identified and understood each character's point of view. I understood why Madeline wanted to spread her wings, but as a mom I also understood why her mom wanted to keep her safe at all costs. There are twists and turns in this book, and an absolutely perfectly told romance. I know that this book had many rave reviews, but also quite a few people that were disappointed by the story, but I felt that this book blew me away. The writing is eloquent and beautiful and there are little illustrations sprinkled throughout the text that add an extra special touch to the story. I am so glad that I picked this one up, and will definitely be looking forward to more of Nicola's storytelling.
Note: Although I received a copy of this book for review, this did not affect my thoughts on this book in any way.