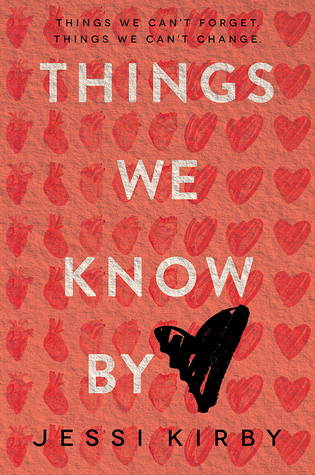 I've had a copy of Golden sitting on my shelf since shortly after its release date. I bought it based on all the positive reviews that I'd seen from bloggers whose recommendations I trust, so I knew that I would love it too. Yet, for some reason, the book remains unread! I even went through two summers where I craved nothing but contemporary standalones, and
still
this book remains on my TBR pile.
When I saw Things We Know by Heart pop up on Edelweiss, I have no idea what compelled me to download it. I had previously decided to be very careful about how many review books to take on, and had basically decided to only download books by authors that I had previously read or books that I was really excited about reading. I'd heard nothing about this book, and only grabbed on a whim because I just know that I will love Golden....whenever I get around to reading it.
I am SO GLAD that I took a chance on this book, and am now determined to read every last word that Jessi Kirby has read. This book was absolutely fantastically written. I did have a couple of problems with the plot because I found some elements of the story to be predictable, but the writing is absolutely flawless. In fact, it's been quite a while since a book has inspired me to grab a pen and jot down a few quotes; I scribbled down several beautiful quotes from this book!
This is the one that started the waterworks though, and kept me thinking long after I'd finished the final pages:
it's terrifying to realize how much your world is wrapped up in loving another person.
This quote really resonated with me and I paused on that line for quite a well, letting the words settle. It's true in my life; I love both my husband and my son so incredibly much, that it does scare me sometimes how intense those feelings really are. My husband and I have mentioned that to each other a few times, about how devastated we would be if we were to lose each other. There are no words that could possibly explain how that would make me feel, and it's something that I don't even want to think about, but we were being realistic and talking about the what-ifs in the world, and making sure that the other person would be okay. (As we always do, we then lightened the mood by deciding that my husband would end up a chess-playing recluse with 27 cats, always yelling at the kids to get off his lawn while shaking his cane in the air!) To bring this back to the book again, I just love how Jessi managed to pack so much emotion and feeling and thoughtfulness into her prose, and I am definitely looking forward to checking out the rest of her work!
Hope this rambling review makes sense to you all -- I had to type it out immediately after finishing the book, while the ideas and thoughts are all fresh in my (slightly rambling) mind.
If you haven't tried any of Jessi Kirby's work, don't be like I was and push her down the TBR list. Take the plunge -- I assure you that you won't regret it!
Note: I received an e-galley of this book from the publisher in exchange for an honest review. The fact that I received a review copy of this book did not influence my opinions in any way.