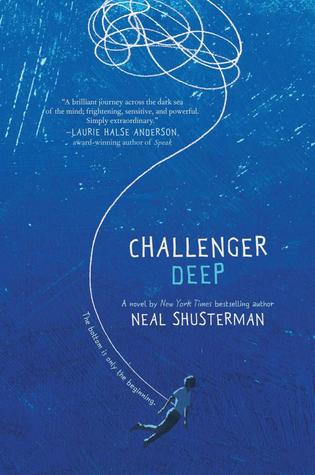 When I first added this book to my "to-read" shelf on Goodreads, I was pleasantly surprised to see that it already had an average rating of over 4 stars, months before publication. I originally downloaded this book because I loved Neal Shusterman's Unwind, which I read years ago.
Neal Shusterman is a master storyteller, but this book is nothing like the dystopian world of Unwind. Challenger Deep is the story of Caden Bosch, whose story is best summarized by the book's description:
Caden Bosch is on a ship that's headed for the deepest point on Earth: Challenger Deep, the southern part of the Marianas Trench.

Caden Bosch is a brilliant high school student whose friends are starting to notice his odd behavior.

Caden Bosch is designated the ship's artist in residence, to document the journey with images.

Caden Bosch pretends to join the school track team but spends his days walking for miles, absorbed by the thoughts in his head.

Caden Bosch is split between his allegiance to the captain and the allure of mutiny.

Caden Bosch is torn.
This book is hard to read because the story is all over the place, just like Caden's mind. But in amongst the chaos the reader will find nuggets of brilliant writing and profound wisdom, which makes this book worth the read. Although
I'm not a fan of bookish comparisons
, if you liked Hilary T. Smith's Wild Awake, the sleeper hit of a couple of years ago, then this one has a similar feel. It's not an easy read, but one that will stick with you long after the final pages have been savoured.