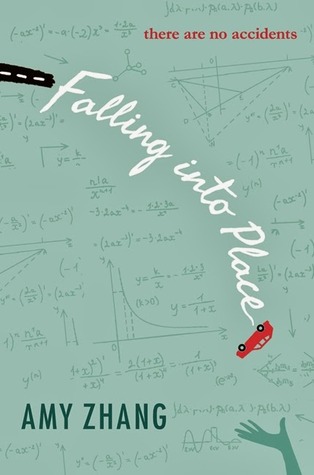 Sometimes I go into a book with my expectations up high, which was the case with Falling into Place, after Jaime @ The Perpetual Page-Turner featured this book on her blog. Unfortunately, Falling into Place didn't wow me quite as much as I had expected, but it is still a solid read. Those darn expectations sometimes set me up for disappointment before I even start reading the first page.
The most impressive thing about Falling into Place is that it's written by a HIGH SCHOOL STUDENT. Seriously, I was blown away when I realized that. For her age, Amy Zhang is one heck of a good writer. I can only imagine how her talent will grow as she ages and her world view expands.
There book opens with Liz's death, as she drives her car into a tree on purpose. The remaining narrative shifts back and forth to various points in time leading up to her death. In the opening sequence, Liz talks about Newton's laws, which are being covered in her physics class. This theme is overused throughout the rest of the book, in my opinion, but this may also be because I never liked physics in school. Every time the story would start weaving in physics analogies, I found myself skimming over that part and rolling my eyes. I could have done without those bits.
I will give Amy props for creating a character that I didn't like, but also pitied throughout the book. This type of character development can't be easy to write, and it was one of the strongest characteristics in the book.
Although I can't say that I was blown away by Falling Into Place, I definitely enjoyed it. I'm impressed with Amy's writing and I'm looking forward to seeing where her writing takes her as she grows up!
Note: I received an e-galley of this book from Edelweiss. The fact that I received this book for review did not influence my opinion of this book in any way.