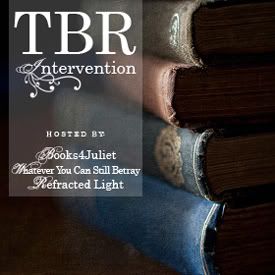 This is a meme that will be both fun AND productive! Thanks to one of my newly discovered, and super cool, blogs: Books 4 Juliet.
The goal of this challenge is to help each other (fellow readers and bloggers) manage our enormous and constantly growing TBR (To-Be-Read) List. The rules are simple and everyone is encouraged to participate. It does not force you to commit to more than what you can manage to read in a week or so, but participants are encouraged to read at least one book within a week. You are free to choose the book you want to read and commit to this challenge. You may post your entry every Saturday, at the frequency of your choice--EVERY WEEK or EVERY TWO WEEKS.
1. Post the book(s) you committed to read in your last TBR Intervention post and tell us something about it. Did you finish it? Did you enjoy it or not? Post the link to your review (if you have one).
2. Post a book that you want to read and already own. Pick something that has been sitting on your shelf for too long now (6 months or longer). Commit to read the book in the next couple of days or week.
3. Grab the button from Books 4 Juliet's page; add your own list to her linky as well! (I'm supposed to add these to my own page---I think---but I'm not technologically savvy enough to attempt that!) And happy reading to you all and to all a good night!
My first TBR Intervention book will be Marcus Zusak's
I Am the Messenger
. I loved The Book Thief so much and I am honestly a little surprised that I have had I Am the Messenger on my shelf for so long, yet I still haven't read it!